Day 1 - Sunday, July 23, 2023 -COPENHAGEN - EMBARKATION See another side of this lovely city with a cruise along its charming canals. Visit the quaint old harbor at Nyhavn and beautiful Rosenborg Castle and, of course, the famed statue of the Little Mermaid. Or venture into the countryside and enjoy its panoramic vistas, fairy tale castles, and the village of Fredensborg.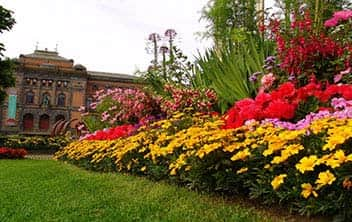 Day 2 - Monday, July 24, 2023 - GOTHENBERG, SWEDEN - One look at the abundance of canals and gabled houses in Gothenburg, and it's clear that the Dutch founded this robust city on the Göta River. That was in 1621, close to the time that mighty Elfsborg Fortress was built at the harbor's mouth. Touring the citadel is fascinating, as are the 17th century Crown House, Maritiman ship museum, and Gothenburg Art Museum with masterpieces from Edvard Munch to Picasso. Gothenburg is one of Sweden's greenest cities, compliments of parks such as Slottsskogen. For a vibrant atmosphere, walk along Kungsportavenyn, Gothenburg's main street, which is a hive of cafés, boutiques, and plazas.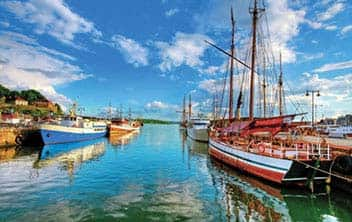 Day 3, Tuesday, July 25, 2023 - OSLO, NORWAY - Overlooking a gorgeous fjord, Norway's capital and the largest city simply radiates with natural beauty and sophistication. Oslo's rich seafaring history is on display at the Viking Ships Museum, rivaled only by the Kon-Tiki Museum, which holds the balsawood raft that Norwegian adventurer Thor Heyerdahl used to sail from Peru to Polynesia. History aside, Oslo exudes a love of the outdoors in city parks like Vigeland, which is adorned with over 200 life-size sculptures by artist Gustav Vigeland. Much of Oslo is heavily forested with pines, making it one of Europe's greenest cities.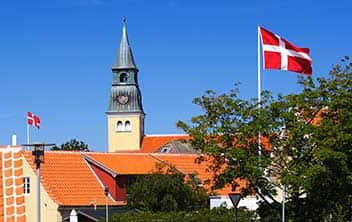 Day 4, Wednesday, July 26 - SKAGEN, DENMARK - A centuries-old fishing village, Skagen is perched along the windswept sand dunes at the northernmost point of Denmark, where the North Sea and the Baltic merge in a frenzy of crashing currents. The town has long been depicted by painters because of its spectacular scenery, charming communities and the remarkable quality of its light, inspiring a group of artists known as the Skagen Painters. See their work at the Skagen Museum, and then learn the science behind the region's natural wonders at the nature center, housed in a striking building designed by architect Jørn Utzon of Sydney Opera House fame.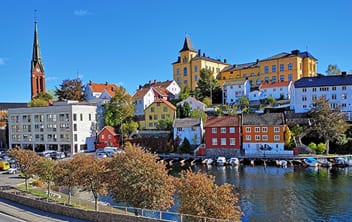 Day 5, Thursday, July 27, 2023 - ARENDAL, NORWAY - Activities To Be Determined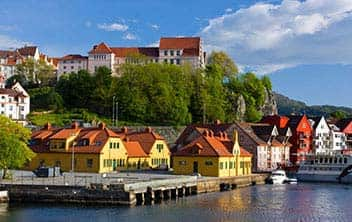 Day 6, Friday, July 28, 2023 - BERGEN, NORWAY - Norway's medieval capital pays homage to its past with wooden houses and cobbled streets that grace the historic Bryggen area around the wharf. Here the Hanseatic Museum reveals a glimpse of working life in the Middle Ages, and the eerie 13th-century Rosenkrantz Tower offers a phenomenal view of the seaport. But Bergen is also contemporary. The modern city stretches inland from the harbor, tempting visitors with attractions such as Bergen Aquarium and Trolls' Hill, the romantic summer villa of Norwegian composer Edvard Grieg, who is buried on the estate.
Day 7, Saturday, July 29, 2023 -

Nordfjordeid, Norway - Situated between one of the largest glaciers in Europe and the rugged Stad Peninsula, Nordfjordeid is your jumping-off point to explore one of the most beautiful places in the world. The UNESCO-listed Geirangerfjord awaits you to the northeast, while icy glaciers flow into spectacular valleys to the southeast – you won't have a moment to put down your camera. Something as simple as visiting a deer farm takes on a whole new meaning when you are surrounded by towering mountain ranges, and taking a leisurely hike will be the most memorable experience of your life when you are embraced by sheer rocky cliffs over which roaring waterfalls cascade.
Day 8, Sunday, July 30, 2023 -
Geiranger (Geirangerfjord), Norway - Geiranger nestles in a small valley at the inland tip of Geirangerfjord, which is unabashedly called "the most beautiful fjord in the world." The scenery is absolutely stunning in every direction, so it's no wonder that the first cruise ship arrived here in 1869. Snow-mantled mountains rise majestically from the glacier-carved fjord. The Seven Sisters waterfalls burst forth from the cliffs and thunder into the deep, serene water. Emerald-green forests blanket the hillsides. If you are feeling ambitious, you might follow one of the many nature trails out of Geiranger, or simply take in the magnificent views as you meander through the storybook streets.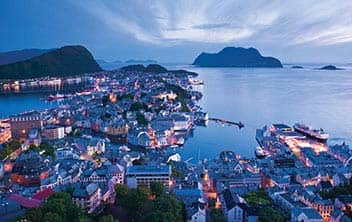 Day 9, Monday, July 31, 2023 - Alesund, Norway - In 1904 much of Ålesund was destroyed by fire, but the town was quickly rebuilt in the period's popular Art Nouveau style. Soaring turrets, spires and beautiful ornamentation adorn the buildings throughout Ålesund, giving it a distinctive flair and earning the town a revered architectural reputation. An evening departure allows you plenty of time to explore its many attractions, such as the spectacular Art Nouveau Centre museum, scenic Town Park, and Atlantic Sea Park, one of Europe's largest aquariums. For a look at modern Norwegian woodworking, visit the impressive Gallery Cylindra. Many of Ålesund's squares feature sculptures commemorating significant events, including the town's rich fishing history and Norway's contribution to World War II.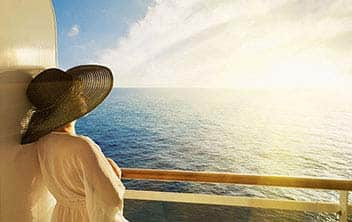 Day 10, Tuesday, August 1, 2023 - At sea - International Waters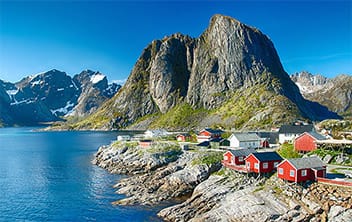 Day 11, Wednesday, August 2, 2023 - Leknes (Lofoten Islands), Norway - Sailing into the dramatic Lofoten Islands among towering jagged peaks and sheltered bays sets the stage for an unforgettable experience. Nothing short of stunning, the main islands – Austvågøy, Vestvågøy, Flakstadøy, and Moskenesøy – are separated from the mainland by a long fjord, but all are connected by bridges and tunnels. Located on Vestvågøy, Leknes is a gateway to unspoiled beaches and the Lofotr Viking Museum as well as traditional fishing villages and outdoor adventures on nearby islands. The unique quality of light has long drawn artists to the archipelago, so you'll also find myriad galleries featuring everything from glassware and sculptures to jewelry. If you're yearning to experience a Lofoten-style city, head to the unofficial capital of Svolvaer.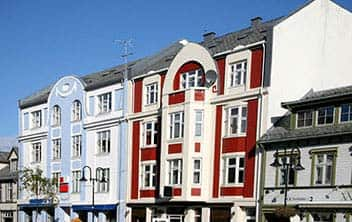 Day 12, Thursday, August 3, 2023 - Harstad, Norway -Located on Hinnøya, Norway's second largest island, prosperous Harstad is considered the country's northern culture capital. It's also distinguished by its superlative attractions. The Anna Rogde, the world's oldest schooner still in operation, sails from the harbor. The world's most northerly stone church, dating to 1250, is just outside town. Nearby lies the world's largest battery of Adolf guns, the heavy artillery used by the Germans during World War II. Harstad is also blessed with natural beauty, as seen by walking the gentle slopes to Keipen for a breathtaking view. To see a historic trading center from 1750, visit Røkenes Farm.
Day 13, Friday, August 4, 2023 - Alta, Norway - TBD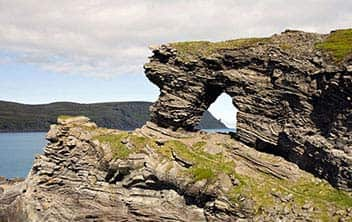 Day 14, Saturday, August 5, 2023 - North Cape (Honningsvaad) Norway - While the Midnight Sun will soon dip below the horizon, Honningsvåg should be illuminated throughout the evening spent here. It's an awe-inspiring setting in northernmost Norway, surrounded by dense forests and fjords, inhabited by reindeer, and held sacred by the indigenous Sami people. One of the world's most memorable, otherworldly experiences is standing atop the precipitous North Cape, the late-night sun eerily hanging over the Arctic Ocean. There is even a museum in town devoted to the North Cape. The area is also famous for the Gjesværstappan Nature Reserve, where literally millions of arctic birds flourish during the summer nesting period.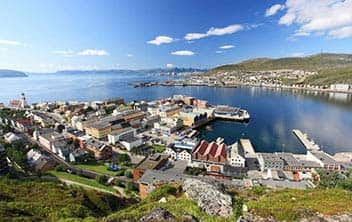 Day 15, Sunday, August 6, 2023 - Hammerfest, Norway - Founded in 1838, Hammerfest was razed repeatedly over the years by storms, fires, and most savagely by retreating German soldiers at the end of World War II. Now almost completely rebuilt (it was Europe's first city with electric street lights), Hammerfest is known for its colorful homes lining the sea, contemporary attractions, and passion for welcoming visitors to its pristine Arctic environs. The most avant-garde building is the striking Kirkegata church with its tent-shaped gable. But don't miss the whaling artifacts in the museum in Market Square or the panoramic view atop Salen ridge.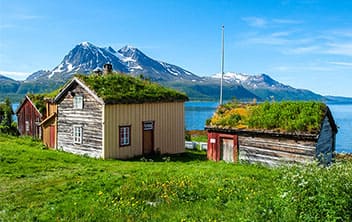 Day 16, Monday, August 7, 2023 - Tromso, Norway (Disembarkation) - As you admire the striking architecture of the Arctic Cathedral and Polaria aquarium overlooking Tromsø Sound, you may get the sense that this city, 250 miles north of the Arctic Circle, has an edgy streak. This should come as no surprise in a place where the sun never sets – or rises – depending on the month. The area's biggest draw is its majestic fjords and mountains, an untouched wilderness that you can explore by boat, bus, foot, and more. At the Polar Museum, you'll discover what it takes to survive in the Arctic, and at the Roald Amundsen Monument, you'll witness a city that honors the lives – and death – of those who live on the edge.
Cancellation policy:
Your cruise or cruise-tour is subject to the terms and conditions of the legally binding contract between you, as our guest, and Oceania Cruises, as set forth in your Guest Ticket/Contract. A copy of the terms and conditions is available online at
www.oceaniacruises.com
or upon request via fax or from your Travel Agent. By using your credit card to make a payment you are agreeing to the terms and conditions and this shall constitute your written acknowledgement thereof.
181 days or more prior to departure 0% of full fare
180 to 151 days prior to departure 24-Jan-23 to 22-Feb-23 $250.00 per person
150 to 121 days prior to departure 23-Feb-23 to 24-Mar-23 25% of full fare 120 to 91 days prior to departure 25-Mar-23 to 23-Apr-23 50% of full fare
90 to 61 days prior to departure 24-Apr-23 to 23-May-23 75% of full fare
60 days or less prior to departure 100% of full fare
Cancellation of Ancillary Items
Description Policy Fee Pre or Post Cruise Hotel Within 60 days prior to departure 100% fee
Pre or Post Land Packages Within 60 days prior to departure 100% fee
Overland Tours Within 60 days prior to departure 100% fee
Visa Packages Within 60 days prior to departure 100% fee
Executive Collection & Private Transfers Within 36 hours of scheduled arrangement 100% fee
A La Carte Shore Excursions Within 36 hours of excursion departure 100% fee
Unlimited & Your World Packages On or after Embarkation day 100% fee
Culinary, La Reserve & Privee Within 36 hours of scheduled reservation 100% fee
Custom Air Fee Once accepted 100% fee
Air Supplemental Fee Standard cancellation policy 100% fee
Waitlist bookings once cleared have 48 hours to cancel without penalty from time of clearance. If the cleared waitlist booking is not cancelled within this 48 hour period, normal cancellation fees will apply.
All forms of payment including future cruise credits are subject to the cancellation penalty policy.
Note: Insurance is non-refundable once cancellation penalties apply.
Disclaimer
Cruise fares above are valid for US and Canada residents only. Cruise fares and availability are subject to change without notice. Please contact Oceania Cruises to confirm category availability. Fares are per person, based on double occupancy and reflect all savings. Cruise-related government fees and taxes are included. Checked baggage fees may apply.
View terms and conditions associated with this special offer.
Terms and Conditions Promotional Fares - OLife Choice
*Standard terms apply. View complete terms and conditions in addition: Cruise-Only Fares do not include OLife Choice amenities or airfare. OLife Choice offer fares expire September 30th 2022 and are subject to availability. OLife Choice amenities are per stateroom, based on double occupancy and subject to change.
Your cancellation policy should include specific deadlines for cancellation, details on how refunds and cancellations will be handled, and a process your clients must follow to request cancellations or refunds. Replace this text with your cancellation policy before publishing this page.