Join Lawal Travel Services for Couples in Saint Lucia!
We've designed this romantic, Caribbean getaway with couples in mind. Enjoy the seclusion and pampering of Serenity at Coconut Bay and experience all that Saint Lucia has to offer. 
Dates: Thursday, May 4 - Tuesday, May 9, 2023
Location: Stolen Time by Rendezvous
Cost: $2563 per person, based on double occupancy. Final payment due April 1, 2023.
Deposit: $250 per person, non-refundable. Due at time of booking.
This escorted travel experience is limited to 5 couples. 
About the destination
The Caribbean island of St. Lucia possesses a wealth of natural beauty—lush mountains, a steaming sulfur volcano, rain forest, charming black- and white-sand beaches, rare colorful foliage and exotic wildlife. Add to this mix the pleasant St. Lucia weather and the nice beaches, and it's understandable why it is a popular destination.
There's plenty to do on this small island, although given St. Lucia's rise as a high-end resort destination, travelers should be prepared to pay to take advantage of much of it. The rain forest is an ideal place for hiking, mountain biking, bird-watching or standing near a waterfall to soak up the mist from its spray. There's also whale- and dolphin-watching, snorkeling, kite-sailing, fishing and diving.
About the resort
Rendezvous, St. Lucia creates an intimate setting for couples seeking a romantic getaway to paradise. Delicious cuisine, relaxing amenities, a lazy river pool, wading pools, a lush tropical garden, miles of white sand beaches and a brand new spa are just a few of the luxuries offered, making it easy to find the perfect spot for a getaway with your loved one. 
Set on a beach with miles of white sand and an unbelievably clear sea, they have created a couples resort that is unlike any other. Featuring candlelit dining on the beach, the finest cuisine, lavish rooms, a lazy river pool that meanders gently through the resort creating small nooks and private hideaways, wading pools, a lush tropical garden and a brand new spa where you can reward yourself with some well-earned pampering.

Unwind with Rendezvous, St. Lucia; couples are intrigued by the various amenities that the resort offers, but the main priority here is to relax. For those seeking some excitement with their relaxation, Rendezvous offers volleyball, tennis, several water-based activities at the state of the art water sports center, a first class PADI scuba center, and much more. Then be sure to head to the beach for some relaxation in one of the comfortable sun loungers!
Great food is an essential ingredient to your romantic holidays. At the resort, great food is part of the whole experience. There is nothing more romantic than savouring fine food together. Rendezvous, St. Lucia has created a selection of bars and restaurants that caters to every taste and every mood. From the formal dining at The Trysting Place to the fun packed informality of the Champagne Bar, guests can dine any time, at their own convenience.
The all-inclusive plan at StolenTime by Rendezvous includes:
Unlimited use of all facilities at the resort

Breakfast, lunch, afternoon tea and dinner daily with three restaurant options to choose from

All beverages including premium brand alcohol and wine by the bottle at dinner

Daily "Bubbly Hour" in the Champagne Bar

Land and water sports including motorized water sports and SCUBA boat dives with personalized instruction

Unlimited tennis with our on-site tennis Pro

Manager's Cocktail Party every Wednesday evening

Nightly entertainment

Taxes and Gratuities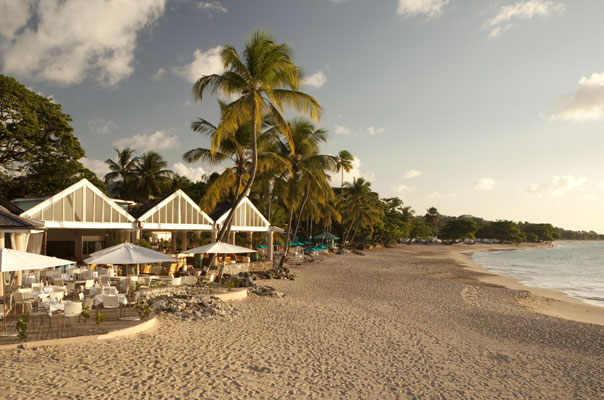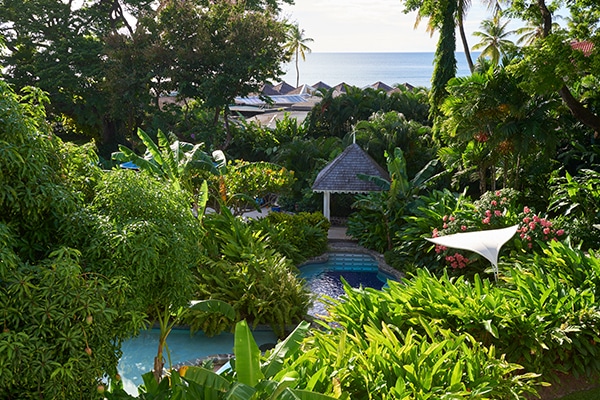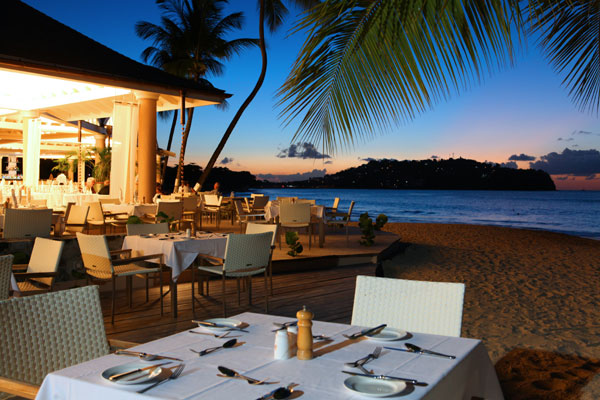 About the Room
Premium Verandah Suites 
Located in a two-story building that overlooks the tropical gardens, our lovely Verandah Suites are the most popular rooms at Rendezvous. All the rooms have fine detailing, hand carved in the traditional Caribbean style. The king-sized bed is complemented by sumptuous fluffy down cushions alongside a comfy sitting area. Ceiling fans circle slowly below painted wood ceilings whilst the top floor rooms have expansive cathedral ceilings. The beautiful bathrooms are finished with frameless glass shower doors, a body shower and a spacious bathtub.
Best of all, the rooms open onto an expansive 12-foot-deep verandah equipped with a large loveseat as well as a teak coffee table and chairs. Perfect for an evening drink. Connect with your travel companions and experience luxury at its finest when you book your all-inclusive St Lucia vacation at Rendezvous.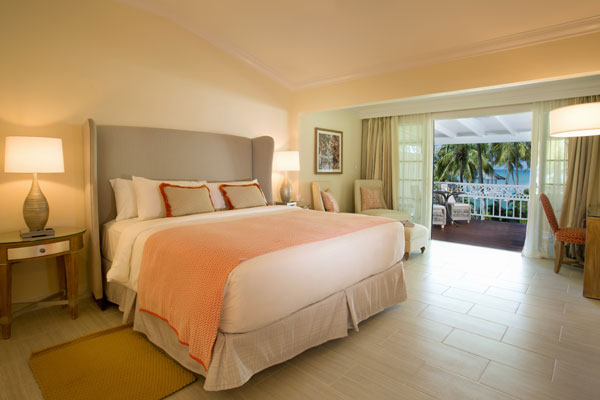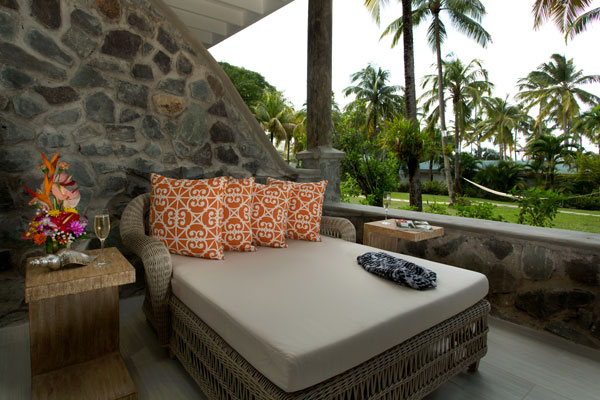 ---
What's included in this trip:
5 nights lodging based on double occupancy

All-inclusive amenities as noted by the resort

Airport transfers to/from resort

Group excursion
What's not included:
Travel insurance

International airfare

Excursions and activities, unless otherwise noted

Meals, unless otherwise noted

Visas

Covid-19 testing
---
Itinerary:
Day 1 - Arrivals, Meet & Greet on resort

Day 2 - Explore & Enjoy on your own; optional excursion to Street Party

Day 3 - Spend the day at Pigeon Island (optional)

Day 4 - Group excursion (Sea, Sand, and Fun)

Day 5 - Explore & Enjoy on your own

Day 6 - Departures, Farewell cocktails at Terrace Bar
Itinerary subject to change.
---
Cancellations and Changes:
$250 per person deposit is non-refundable. 
Cancellations made 30 days or less prior to arrival date incur a penalty of $150 in addition to non-refundable deposit.
Name changes are subject to supplier policy/acceptance. More than one name change per room on a reservation is considered a cancel/rebook. 
Hotel deviations while in-destination will incur a $75 per person change fee.
---
FAQ:
Do I need a passport?
Passengers traveling outside the United States are required to carry proof of citizenship. All U.S. citizens must have a valid U.S. passport. Passport cards are not valid for travel to Mexico and the Caribbean. The passport must be valid for six months after the return date of your travel. Minors 17 and under traveling alone or with a single parent may be required to have additional documentation on international flights. It is your responsibility to secure the current requirements for your particular itinerary and carrier.
What if I'm traveling solo?
This travel experience was curated specifically for couples. If you are interested in a similar experience for singles or solo travelers, please schedule a call.  
What is the required deposit?
Required deposit is $250 per person, based on double occupancy. The deposit is non-refundable. 
What are the Covid-19 protocols for?
You can use Sherpa to check up-to-date travel restrictions. Covid-19 restrictions and policies can change daily. 
Do I need travel protection?
We highly recommend you arrange travel insurance in case you need to cancel for an unexpected reason to cover any non-refundable costs. Travel protection may also provide some coverage for medical expenses and travel delays.  You can compare plans
HERE.
Florida SOT TI93599 & ST17873
California SOT 2063964-50