Many have placed Egypt, The Land of the Pharaohs, on their travel bucket list. Travelers drawn to Egypt become witnesses to the logic-defying feats of engineering that are the Pyramids of Giza, and colossal temples and tombs that offer up the secrets of the Pharaohs (Egypt's kings and queens) and the gods they worshiped. Beyond the astonishing antiquities, it's a magical country that swirls with myth, legend and mysticism! Now is the time to make this once in a lifetime trip to this mystical land. 
What's included in this experience:
Nonstop/Round-trip flight from JFK (when full package is purchased)

4 nights at Kempinski Nile Hotel or similar 

4 nights aboard MS Sonesta St. George I

Intra-flights from Cairo and from Aswan

Airline fuel surcharges

Daily Breakfast Included

50 Shades of Blue Welcome Dinner

Tour of Great Pyramids & Sphinx of Giza

Sound & Light Show at Pyramids

Tour Karnak Temple

Tour Luxor Temple

Tour Valley of the Kings

Tour Temple of Philae

Tour Edfu Temple

White & Gold Galabeya Dinner Party

Shopping at Khan El Khalili Bazaar 

Tour Egyptian Museum

Cooking Class of Authentic Egyptian Cuisine

Farewell Dinner

All transfers with private motorcoach

English speaking local Egyptologist Guide

Onsite C.A.F.E. Hostess

All taxes and fees

And so much more
What's not included in this trip:
Flights to Cairo, if Land Only Package is purchased
Hotel & Airport Porterage
Gratuities for drivers (suggested $5 - $8 per day)
Gratuities for Egypt Tour Guides (suggested $10 - $20 per day)
Travel Insurance, but can be added. Click here to purchase your travel protection plan. 
Items of a personal nature (including purchases at

Khan El Khalili Bazaar

, etc.)
Meals except where noted in itinerary

Meals Included:
8 breakfasts, 6 Lunches, 5 Dinners

 
Hotel Accommodations:



Kempinski Nile Garden City Hotel
Located in the heart of Cairo,  the five-star Kempinski Nile Hotel offers guests an outstanding boutique experience on the banks of the Nile River.  Kempinski Nile Hotel provides a diversity of 137 rooms and 54 exclusive suites in a remarkable location. All the suites have their own private balcony to revel in the view of the Nile River while relaxing.
With Kempinski's accompanying benefits, such as culinary experiences at four restaurants and lounges, a leisure spa, a pool on top of the hotel with views of Cairo at the RoofTop, and a stylish fitness centre, all Kempinski Nile Hotel guests will encounter everything they could ever desire.

Cruise Accommodations:



MS Sonesta St. George Nile River Cruise
Sail the majestic Nile River between Luxor and Aswan in the comfort and modern luxury of the MS Sonesta St. George Nile cruise ship.
Sonesta's fleet of Nile River cruise ships offer 3-, 4-, and 7-night trips between Aswan and Luxor, exploring the landmark temples, tombs and ruins in the region. Guided excursions with Egyptologists highlight each day and are followed by delightful leisure activities on the ships. Enjoy upscale hospitality and watch 5,000 years of history unfold before you on an unforgettable journey through ancient Egypt.  The Sonesta St. George I offers luxurious accommodations that provide the ultimate in comfort, elegance and design. With 47 Deluxe Cabins, 9 Presidential Suites and one Royal Suite, St. George I features the highest quality furnishings and most upscale amenities.
All accommodations feature:
LED 43 inches TV, equipped with the latest technology and featuring a live sailing channel
Double-glass panoramic French windows that open to bring in fresh breezes from the Nile
Internet access
Direct-dial telephone
Individual climate control
Electronic door locks
Mini-bar
Safe
Hair dryer
Bathrooms equipped with spa unit; including steam bath, Jacuzzi and water massage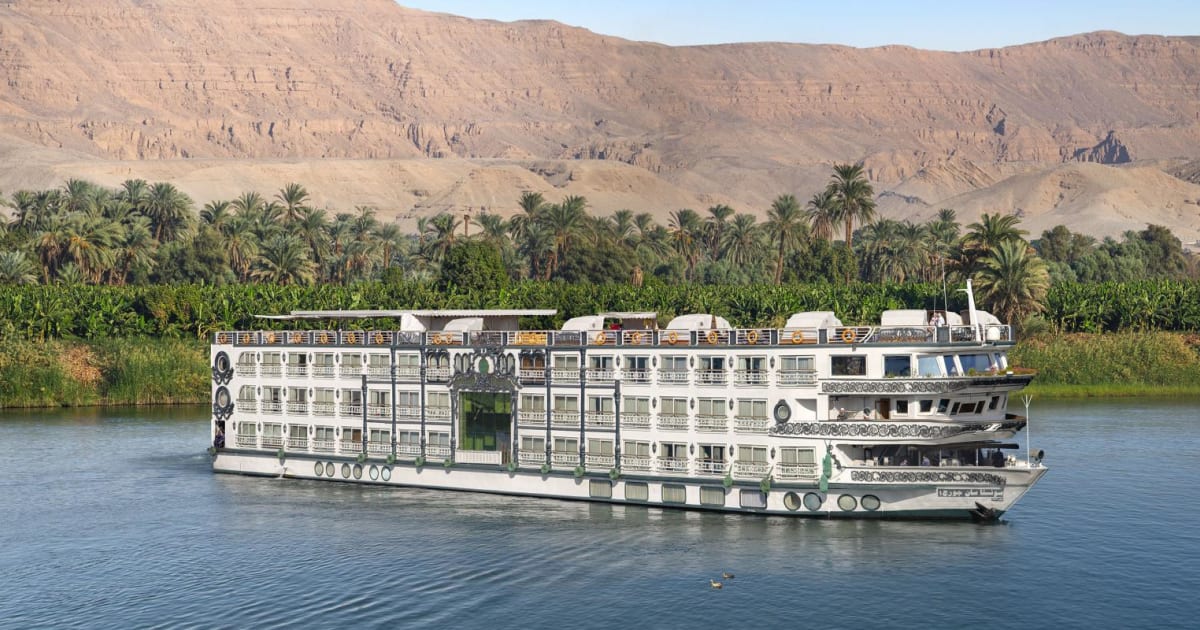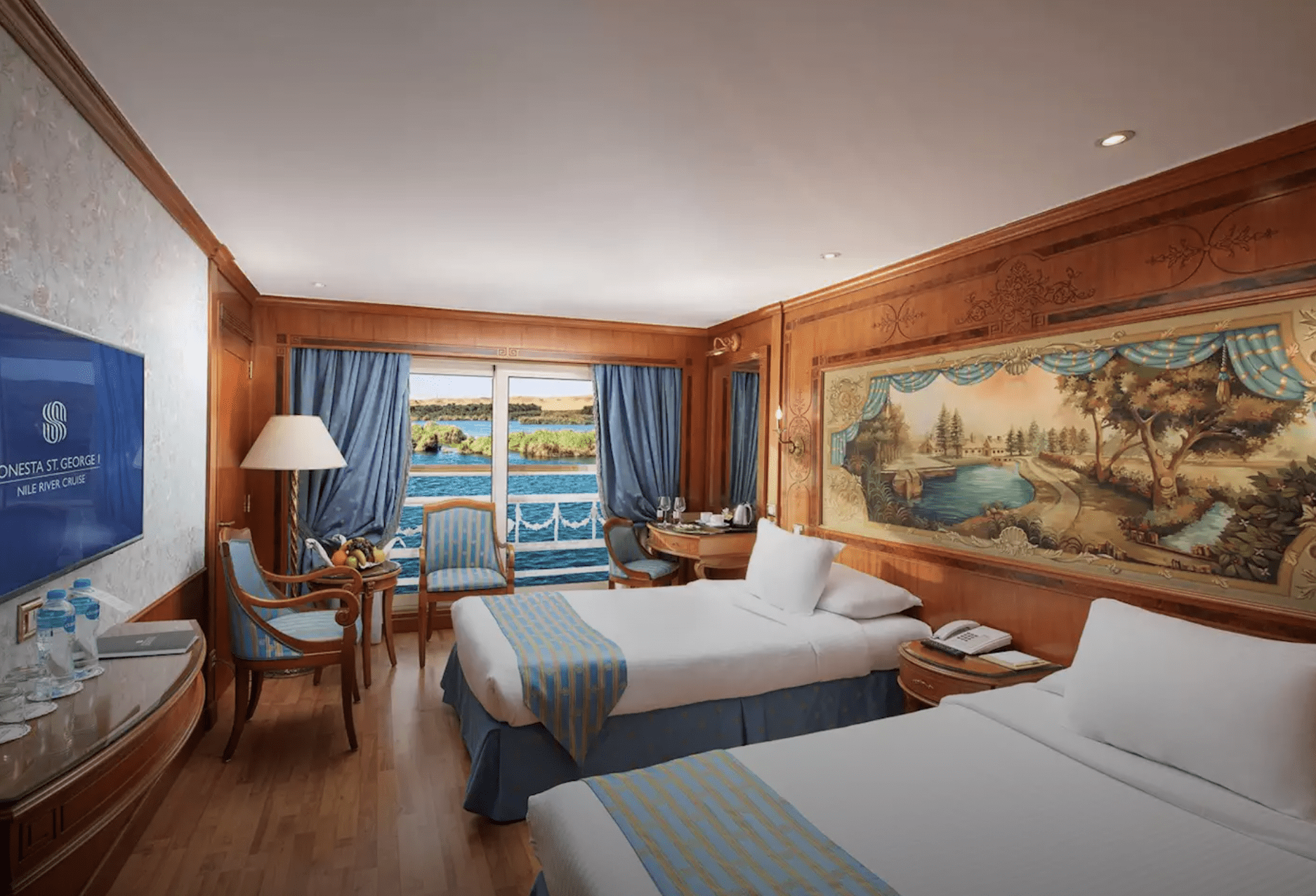 Pricing: 
Pricing is per person based on double occupancy.
Call for single occupancy rate.
Non-refundable deposit is $500 per person 
Final payment is due June 15, 2023
Booking Terms & Conditions (Please read in it's entirety):
Due to contractual obligations, all payments for this travel event is non-refundable and non-transferable.
Making reservations for this package signifies your acceptance of all Terms and Conditions, including the cancellation policy.
Purchasing travel insurance is highly recommended to protect your investment. Click here to purchase your travel protection plan.
Prices, itinerary and availability are subject to change at the discretion of Peace of Mind Travel Services LLC &/or GoWay Travel without notice. Please make your reservations today at this low price to be locked in.
Periodic payments are accepted; however, monthly payments are recommended to keep your reservation current.  Ninety (90) consecutive days without any payment whatsoever or a request for a one-time payment arrangement, your reservation(s) may automatically cancel without notice.  A reinstatement fee will apply to reinstate the reservation.
No roommate? No problem! There is always someone wanting to travel and no one to travel with. Roommate Match is offered for this tour. You will select "double occupancy" on the order form.  On the reservation notes form, you will select "yes" for roommate match.  Roommates will not be matched until after 75% of your reservation total has been made on your invoice.  We will do our best to room you with someone. But, if 120 days before departure there is no roommate available, you will be required to pay the single rate to secure your booking.
Refunds will not be given due to roommate abandonment. Please ensure your roommate has made his/her reservations and are making timely payments as required.
Name changes are available on your reservations until April 15, 2023 . After 4/15/2023, a name change fee of $250 will apply.
No payments will be accepted after June 15, 2023. No Exceptions!
Passports and Visas:

Passports are required to be valid for at least 6 months after the date of travel. Passengers are responsible for ensuring that they have the proper travel documents and MUST CHECK with the respective consulate(s) or visa agency to determine whether any visas or passports are required. Any information provided pertains to U.S. citizens only.

Currently, US Passport holders will receive a VISA upon entry into Egypt. A $25 fee is required at the time of arrival. If price changes, we will alert you immediately via email.
If you select the LAND ONLY PACKAGE,

you are required to make your own flight arrangements and airport transfers. When making your own flight arrangements, you must pay close attention to dates. You should schedule your flight to

ARRIVE

in Cairo, Egypt on September 2, 2023.

This means you must fly out of the United States on September 1, 2023. You should also schedule your return flight home for September 10, 2023.
We recommend all attendees arrive into JFK at least 4 hours before the group's flight time. For peace of mind, you should additionally consider flying into JFK on August 31, 2023 and stay one night at a nearby hotel. We recommend the Hilton Hotel at JFK or Hampton Inn JFK.
A full day-by-day itinerary will be provided 30 days before travel, if not earlier.
Hotel industry standards may require a credit card charge upon checking into your room for incidentals. You and your roommates should discuss this before checking in. You should also use a credit card as opposed to a debit card. Cash may also be submitted. Please contact Kempinski Nile Hotel Garden City for more information on their incidental policy.
IMPORTANT INFORMATION REGARDING COVID-19 AND IMPACT ON TRAVEL
Please be advised the travel itinerary presented is for travel with COVID-19 being a known global risk.
 You and/or your travel party should be aware that COVID-19 and the health and security measures around COVID-19 may impact elements of your trip and influence the operation of some travel services. The state you and your travel party reside in, the country or countries you are travelling to or via, and the airline(s) you are travelling on may have strict requirements on travel to limit the spread of COVID-19. 
These requirements may include but are not limited to:
v

  

Wearing of masks at airports, while in flight and when out in public.
v

  

Active testing for COVID-19 that may include blood testing before permission is granted to board any flight or enter a country.
v

  

Being able to show proof of health via formalized means (Certificate or similar).
v

  

Subject to screening on arrival at your destination country or any transit countries.
v

  

Subject to quarantine periods in any country subject to screening results.
v

  

Changing restrictions on sightseeing, due to closures or other public health concerns.
v

  

Subject to limitation/restrictions on travel to the destination by your country of residence/citizenship.
v

  

Possible compulsory quarantine on return to your country of residence/citizenship.

COVID-19 is causing constant and ongoing changes in the application of the above types of measures and the way an airline, airport or country chooses to deal with the threat of COVID is constantly changing.
It is the individual's responsibility to keep themselves informed of all requirements in relation to their trip and any COVID-19 based restrictions, and we suggest these are monitored constantly right up until departure, as they can change at any time. The same applies to any travel companions who may be travelling.
Peace of Mind Travel Services LLC & GoWay Travel is not liable for any loss due to failure to read and understand this information, as the considerations included in this document may be critical to your upcoming trip.
For more information, Peace of Mind Travel Services LLC recommends consulting the US Government website(s) such as www.travel.state.gov for any specific travel advisory information pertaining to our said destination (Egypt).

Cancellation Policy:
Peace of Mind Travel Services' Fee:
Cancel prior to 4/15/2023: $50 per person
Cancel after 4/15/2023: $100 per person
​
Note: Peace of Mind Travel Services' cancellation fees are separate from the supplier's cancellation fees. Supplier policies regarding cancellation fees will be relayed in your trip proposal. Our cancellation fees must be paid for Peace of Mind Travel Services to move forward with the cancellation request.